PBS NewsHour Co-Founder Jim Lehrer Dies at 85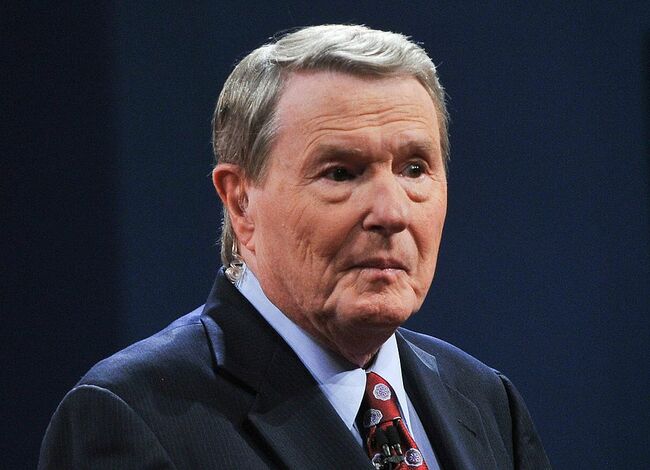 Legendary newsman, Jim Lehrer, who co-founded what is now known as the PBS NewsHour died Thursday at his home in Washington. He was 85.
Lehrer's death was announced by his longtime network, PBS, where he co-founded NewsHour in 1975. According to a statement from the outlet, Lehrer died "peacefully in his sleep at home." No other information was shared about the newsman's death.
Lehrer was best known for his time anchoring the "NewsHour" for 36 years until his retirement in 2011.
Judy Woodruff, who took over for Lehrer in 2011, said in a statement Thursday that she was "heartbroken" to hear about her predecessor's death.
"I'm heartbroken at the loss of someone who was central to my professional life, a mentor to me and someone whose friendship I've cherished for decades," Woodruff said. "I've looked up to him as the standard for fair, probing and thoughtful journalism and I know countless others who feel the same way."
Lehrer joined PBS in 1973 where he began covering the Watergate hearings with his fellow newscaster, Robert MacNeil. In 1975, the pair joined forces to create "The MacNeil/Lehrer Report" which was changed to "The NewsHour with Jim Lehrer" after MacNeil left in 1995.
Lehrer was also known for presiding over 12 presidential general election debates, "more than anyone other person in U.S. history" as PBS points out.
PBS President Paula Kerger also added, "On behalf of all of us at PBS, we are deeply saddened to learn of Jim Lehrer's passing. From co-creating the groundbreaking MacNeil/Lehrer Report to skillfully moderating many presidential debates, Jim exemplified excellence in journalism throughout his extraordinary career. A true giant in news and public affairs, he leaves behind an incredible legacy that serves as an inspiration to us all. He will be missed."
Photo: Getty Images

Jason blog
Hey everyone, I'm Jay Ry, the executive producer of the Big Boy's Neighborhood show, and I manage most of the universe of Big Boy content. First of all, thank you so much for listening and supporting our show in whatever way you do. You may have...
Read more