Maximum Security Owners File Lawsuit Over Kentucky Derby Disqualification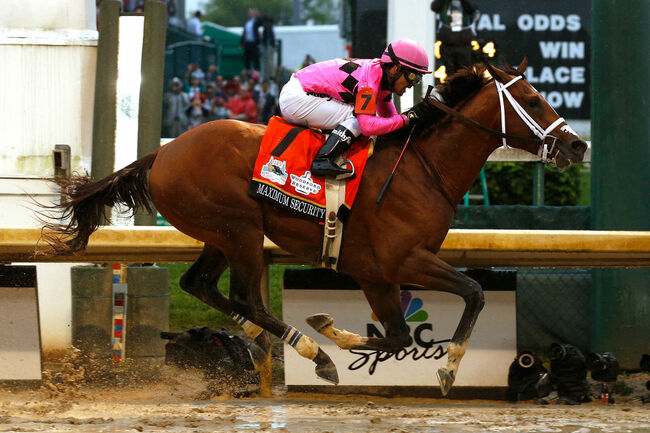 The owners of Maximum Security, the horse that was disqualified from the Kentucky Derby for impeding the progress of other horses, filed a lawsuit in U.S. District Court Tuesday asking for them to reverse the decision and confirm Maximum Security as the official winner of the Derby.
According to the lawsuit filed in Frankfort, Ky, Tuesday, the plaintiffs are also asking for the court to "redistribute all purse monies in accordance with the revised order of finish."
Country House, the second horse to cross the finish line, took home the $1.86 million purse and was declared the winner by Churchill Downs stewards after two jockeys filed an objection to the results. The three-member panel watched video footage of the race for about 22 minutes before ultimately deciding to disqualify Maximum Security for "impeding the progress of other riders."
"As a result of the disqualification, plaintiffs, the trainer, and the jockey of Maximum Security were denied any part of the $1,860,000 share of the Derby purse as well as a professional accomplishment that any horseman would cherish for life, plus the very substantial value that a Kentucky Derby winner has as a stallion," the lawsuit states.
The lawsuit also takes issue with the disqualification process itself, calling it "bizarre and unconstitutional" and that the stewards' decision was not supported by the evidence. They plaintiffs also say they can prove that War of Will and jockey Tyler Gaffalione struck Maximum Security five times and should be held responsible.
Maximum Security's owners tried to appeal the stewards' decision shortly after the Kentucky Derby, but the Kentucky Horse Racing Commission quickly denied the appeal.
Photo: Getty Images

Vick One
VickOne was born and raised in Los Angeles. He grew up in Glendale and has always had a passion for Hip Hop and DJing. His passion soon turned into a reality when he saved enough money to purchase his own turntables. VickOne has toured the world...